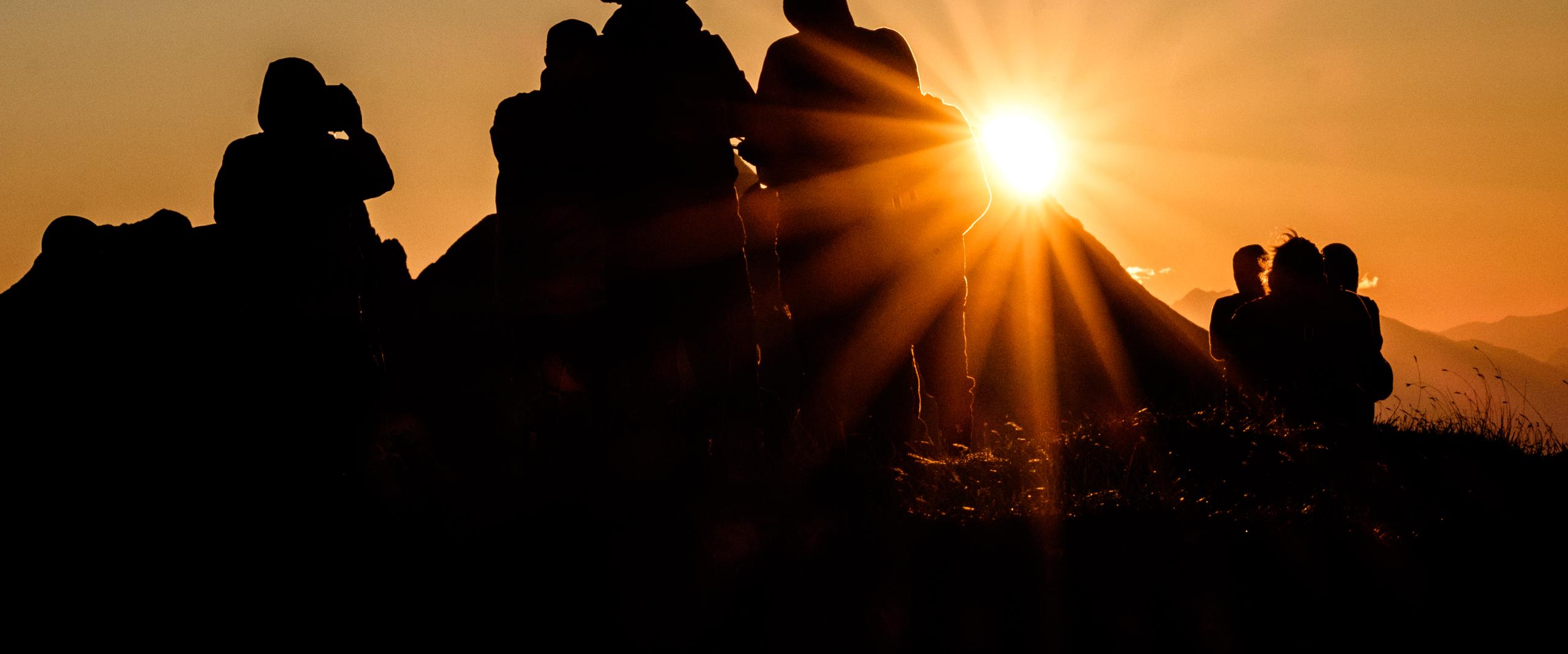 Many are afraid that they will be bored in the mountains during rainy weather. But exactly the opposite is the case. While on a beach vacation in a hotel you look pretty drenched, there is plenty to do in the Schladming-Dachstein region in really any weather.
In case of bad weather please note
Please do not plan mountain tours in bad weather. In the mountains, the weather can often be unpredictable and change from one second to the next. For larger tours, precise planning and detailed study and analysis of the weather report is therefore imperative.
Make sure you wear the right clothes: Even if it is warm in the valley even when it is raining, it can often be quite fresh after getting off at the top station. Therefore, take enough clothes and possibly a change of clothes for you and your children.
Take thunderstorm warnings seriously! In our area it is not uncommon for warm days to be followed by violent heat storms. These are very romantic in the safety of the hotel, but you don't have to be up on the mountain. Especially in the side valleys you often don't see approaching thunderclouds so quickly. Therefore, always plan enough time to get back to the starting point. If there are thunderstorm warnings, stay away from via ferrata, summit tours and long-distance hikes.
Indoor activities in the region (many of them free or discounted with Schladming-Dachstein Sommercard).
Visit a real wool world with loden factory with 3D film, interactive stations, info monitors and expert guide (Steiner 1888)
Trautenfels Castle offers interesting exhibitions, fabulous views over the Enns Valley and is FREE with the Sommercard (Trautenfels Castle)
Directly in the village of Haus awaits the Deanery Museum with extensive church and cultural history, FREE with the Sommercard (Deanery Museum)
After a one-hour hike along a beautiful forest path, which can also be hiked in rainy weather, the Alpine Museum at the foot of the Dachstein awaits with a wealth of background information about our mountain world, FREE with the Sommmercard (Alpine Museum Austriahütte)
The Winter Sports Museum, only a 3-minute walk from the hotel, invites you to interesting tours several times a week and tells you many stories about the ski history of the region, of course FREE with the Sommercard (Winter Sports Museum)
On the way from Salzburg to the Enns Valley, you almost can't miss it, the mighty Hohenwerfen Castle. Here daily guided tours and bird of prey shows are offered, these are available at a reduced rate with Schladming-Dachstein Sommercard (Hohenwerfen Castle)
Carpentry for children and adults at Fastenberg: drill, hammer, saw...as much as you can. There are no limits to your imagination! Under expert guidance, small works of art are created from wood. Children and adults discover their talent for craftsmanship. 15% discount with the Sommercard, material will be prepared and provided.
After a drive of about 50 minutes, you will reach the giant ice cave at the other end of the expansive Dachstein, which you can visit at a reduced rate with the Sommercard. There are also numerous mining tunnels such as the Salzwelten in Bad Ausssee and Hallstatt (Big Ice Cave).
Indoor Cartbahn Schladming - The E-Gokart Race experience in the Planai underground car park! Reduction on the normal prices with the Sommercard.
Outdoor activities in the region
We'll let you in on a secret - the weather is almost never so bad that you really have to sit inside all day. That's why even in bad weather there are numerous excursions that you can still go on - armed with rain gear and an umbrella:
The Styrian Lake Constance - a real natural jewel of our region and embedded in a magnificent mountain scenery, is worth a visit in any weather. Especially in bad weather, an almost mystical atmosphere lies over the lake, which can also be observed comfortably from the inn or you can walk around it for about 30 minutes (the Styrian Bodensee)
Enns walks: directly away from the hotel, there are numerous walking paths along the Enns, which you can hike quite leisurely. Here many puddles are waiting for contact with their rubber boots :)
Wonderful world of herbs - the Sölkner Jesuit garden can be visited at any time. Numerous plants and herbs that have fallen into oblivion are cultivated here. Visit FREE with the Sommercard (Jesuitengarten)
Hiking through the Höll, Silberkarklamm or Wörschachklamm: Numerous gorge experiences with roaring waterfalls, from which you always get a little wet anyway, invite you to visit even in bad weather. It's worth it! (Clamp experiences Schladming-Dachstein)
or you can take a leisurely drive up to the Planai or Hauser Kaibling, treat yourself to a delicious lunch high up on the mountain, hike around a bit and enjoy the day. We have many more tips for you on site!
Our alternative insider tip:
A walk through the Gradenbach forest. Ask us about it, we will be happy to explain how to turn your rainy day into an experience in this beautiful forest.
You can find many more excursion tips at
www.schladming-dachstein.at.