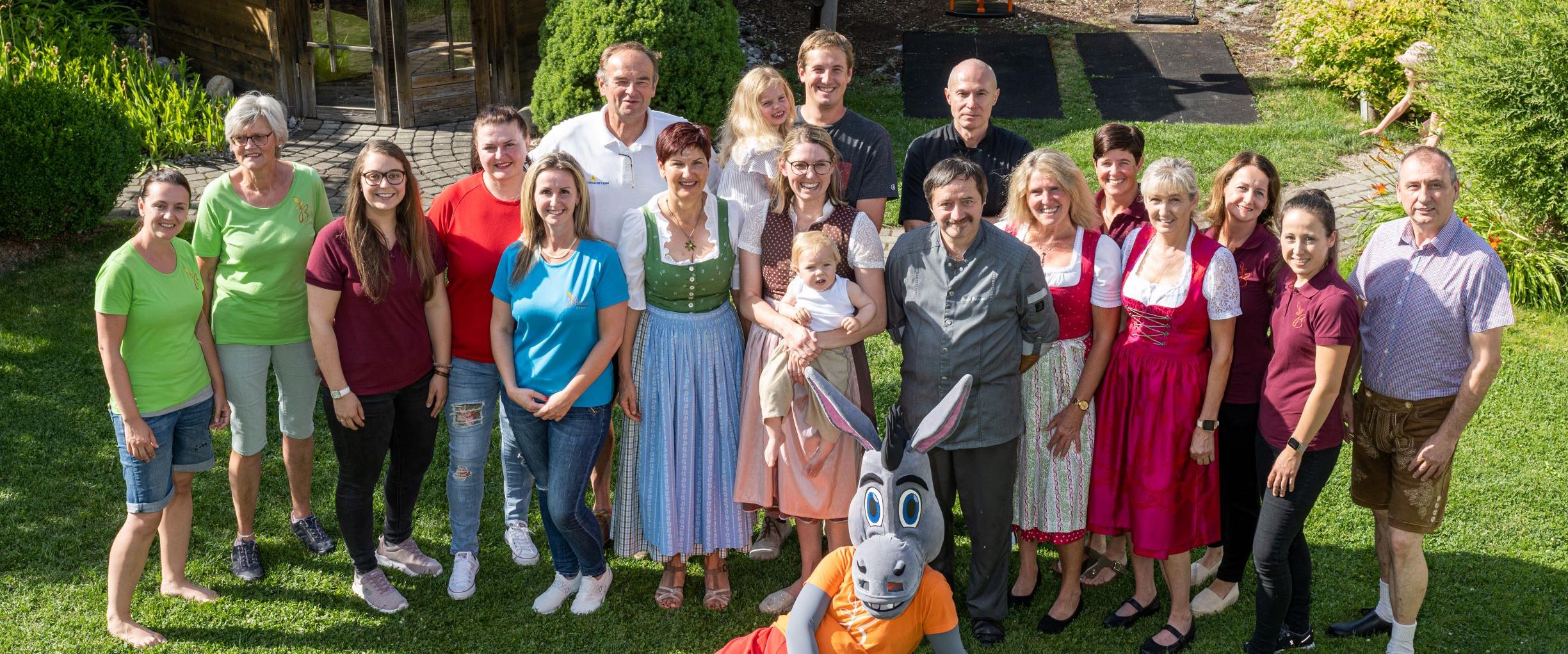 The Bliem-Team - be part of it!
The good reviews received on hotel rating portals, in our own guest surveys as well as the guests' personal feedback about our staff's work makes us very proud. Friendliness and genuine hospitality are a matter close to our heart and we are happy to hear that these values are shared by each member of the staff. Most of our employees have been with us for many years.
New team members are welcome. We offer an especially friendly working environment!
We offer all our employees:
ein familiäres, freundliches Arbeitsumfeld mit respektvollen Umgang miteinander
geregelte Arbeitszeiten mit fixen Dienstplänen und fixen freien Tagen
zahlreiche Benefits: vergünstigte Sommercard für Mitarbeiter im Sommer, vergünstigte Winterbenefitcard für Mitarbeiter im Winter
gemeinsame Ausflüge und Teambesprechungen
Möglichkeit für Kinder und Enkelkinder unsere Hoteleinrichtungen zu besuchen
Regelmäßige Mitarbeitergespräche um Probleme anzusprechen, bevor sie auftreten
Respekt gegenüber unseren Mitarbeitern hat bei uns oberste Priorität.
Eine Bezahlung über Kollektivlohn ist bei uns selbstverständlich.
a familiar, friendly working environment with respectful interaction with each other
regulated working hours with fixed duty rosters and fixed days off
numerous benefits: discounted summer card for employees in summer, discounted winter benefit card for employees in winter
joint excursions and team meetings
possibility for children and grandchildren to visit our hotel facilities
Regular staff meetings to address problems before they arise
Respect for our employees is our top priority.
Payment above collective wage is a matter of course for us.
Current vacancies
Please send us your application to mitarbeiter@bliems.at
Your contact persons are Katharina and Waltraud Bliem!
Immediately: Apprenticeship hotel and restaurant specialist (m/f)

Come join our team and be our first apprentice in many years. Our motivated team leaders and the Bliem family are looking forward to introduce you to the hospitality industry with all its benefits. Our hotel accommodates almost exclusively families, so a really very nice group of guests with numerous regulars.

What does the apprenticeship as a hotel and restaurant specialist involve?

Working at the reception desk, e.g. preparing offers, check-in and check-out
Serving guests in the restaurant area, e.g. serving food and drinks, issuing bills
Prepare the restaurant for guests (mise en place)
Promote hotel and restaurant offerings, e.g., create social media posts
Plan and execute facility management, e.g., create cleaning schedules, inspect building systems Order and properly store merchandise
Create new offers for guests
Maintain online platforms

We offer you:

Very good working atmosphere with fair working conditions. We want you to feel comfortable in your apprenticeship.
Regulated working hours in compliance with the legal requirements for apprentices
Highly trained team leaders with a lot of experience, who will be happy to introduce you to the hotel's procedures
Catering in the hotel

The apprentice compensation for the apprenticeship as hotel and restaurant specialist is EUR 760.00 gross per month. Willingness to overpay. You can find all information about the apprenticeship here.