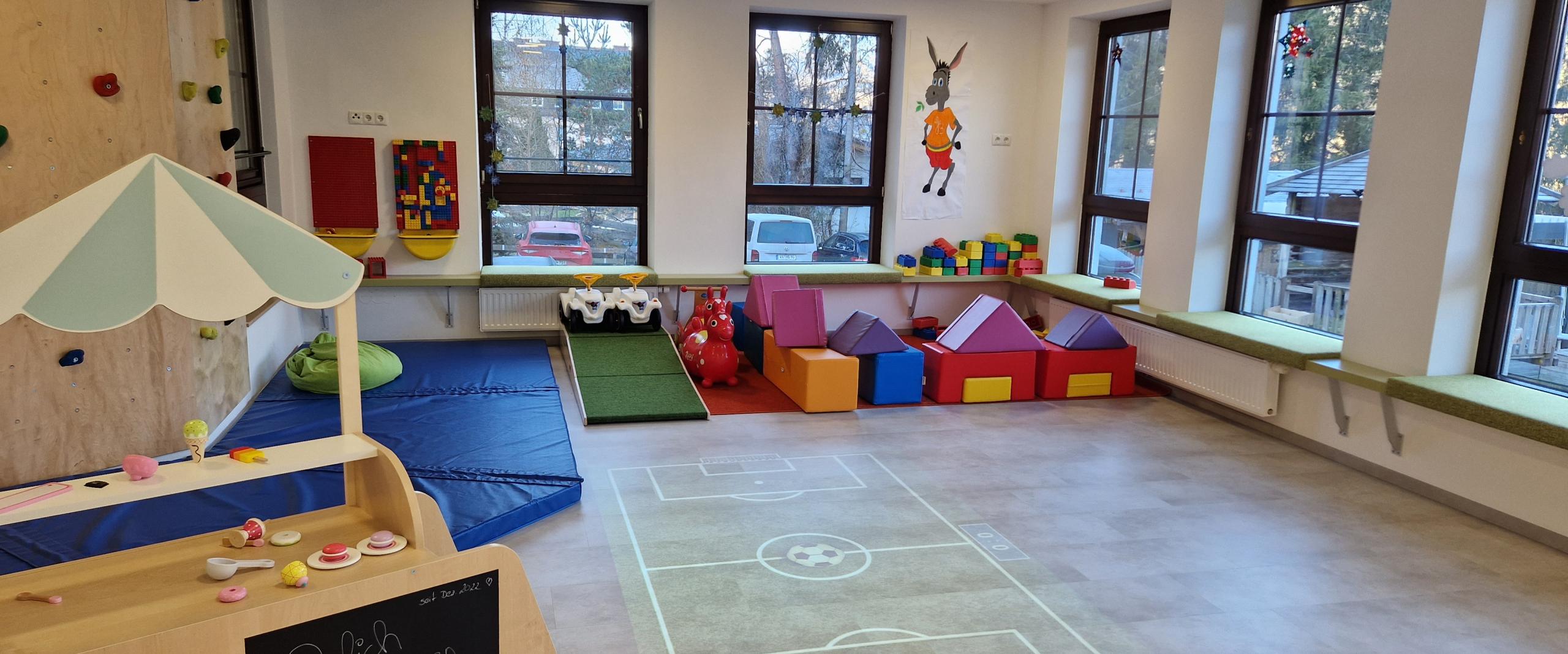 We are your vacation specialists for vacations with children in the Schladming-Dachstein region. Childcare, great varied program, pick-up service for minikids from the ski course, varied toddler equipment for the kids and a spacious playroom Donki Club make your vacation with the family perfect.
Our program are recommended for children from 3 years. Outside the vacations, i.e. from 08 January to 03 February 2023 and from 04 March to 01 April 2023, we also look after your youngest from 1 to 3 years. We change diapers, feed them and put them to sleep in the stroller or with us in the Donki Club. We are also available on Sundays outside of vacations for 3 hours to get your youngest 1-3 years old settled in. Toddler care is daily with registration until the day before at 20:00.
We are here for your children!
Perfect ski vacation with sports, games and fun.
We are your perfect vacation host for children from 3 years. But of course we are also happy to look after your toddlers from 12 months to 3 years. To make a ski vacation with children and baby a relaxing experience for the whole family, we offer loving childcare at Bliems Kinderhotel with our highly trained and motivated childcare staff Anja and Sophie.
The children are all cared for in the same area and by the same caregivers! Siblings in different age groups are therefore not separated from each other!
Great children's programs for all ages
With "fun & games in the garden" (daily), cooking and baking together, creative workshop, kids disco, kids show, kids yoga, torchlight hike, dancing with Donki and much more!
Our childcare workers come up with a great program every week - tailored to the age of the children present.
Pick up from the minikids ski course - ski hotel with childcare
Beginner skiers (3 and 4 years old) who attend a ski course only in the morning at the ski school area near the cable car, will be picked up by us from Monday to Friday at noon and included in the hotel's child care. After a joint lunch, children play, sing, dance, do handicrafts and, if necessary, sleep in the children's club.
Care for children from 12 months in the ski hotel.
Our hotel is recommended in principle for families with children from 3 years. However, in our hotel with infant care, outside the vacations, children from 12 months can be placed in the loving care of the nannies. Our caregivers are very experienced in dealing with the smallest, they change diapers, feed and put to sleep. Childcare at the ski hotel in Styria is available from Monday to Friday, in January also on Sunday, 50 hours and more a week (included in the price). Romping in the garden or a walk in the fresh winter air are a fixed part of the daily routine.
Toddler care does NOT take place during the Christmas, semester and Easter vacations.
Childcare hours for children from 12 months to 3 years of age
Sun 09:00 to 15:00 (only outside the vacation periods) for 3-4 hours to acclimatize in the mentioned period and Mon-Fri from 9:00 to 17:00
Baby care for your skiing vacation with baby
For babies up to 12 months our babysitters are ready! They take care of the little ones from Monday to Friday, up to 5 hours each, maximum 2 babies. The care takes place in the rooms of the children's club, but the babysitters take care exclusively of "their" babies, so that we can guarantee the best possible care. Baby care is available at any time with advance booking and costs € 15.00 per hour. We ask you to announce this already at the time of booking.
Nothing more stands in the way of your ski vacation with childcare.
Important notes on childcare for young children:
Children need a period of acclimation. This often lasts several weeks in kindergartens and daycare centers. We therefore ask you to give your children time to get used to the new environment and the new caregivers. Even for children who are also at home in a care facility, everything is still new with us. Building trust is a process and sometimes doesn't work from the first minute.
Sunday is used to get a taste of childcare. Therefore, children can be dropped off for a maximum of 3-4 hours on Sunday.
If your children are obviously not feeling well and crying a lot, we will call you and ask you to come back. We do this solely out of compassion for the children.
Sick children or children who are suspected of being sick cannot be brought into care. We ask you to think not only of your own child, but also of the children of the other guests. Danger of infection!
Pick-up minikids ski course: from Monday to Friday we are happy to pick up your children (3-4 years) from the minikids ski course at the valley station. In order to avoid leaving the children in the hands of strangers, parents must be present at the ski school on Monday for the handover.
Our last request: Be patient!
Our nannies are very experienced and loving in dealing with children. By the second or third day at the latest, most children feel right at home in the hands of our childcare staff. In case of doubt, however, we always decide in the best interest of the children.
Way to go! Enjoy winter, snow and sun at the Kinderhotel Austria
Premium childcare and age-appropriate activities with our team of fully qualified, trained and experienced nursery school teachers.
Fun and games outdoors...
The nursery school teachers know how to create a fun and engaging environment for entertaining winter outdoor activities. The animals at the hotel's "Bliem Ranch" look forward to visits from our young guests.
... and indoors
Kids will definitely feel completely comfortable with an fantastic array of activities including magic trick school, circus, drawing competitions and story times along with plenty of stimulating fun in the 200m² play area.
Time flies by when kids are having fun with softball enclosure and indoor bouncy castle to romp around. Play house, doll's kitchen, creativity and relaxation area to draw, do crafts and read will keep them happy and stimulated.