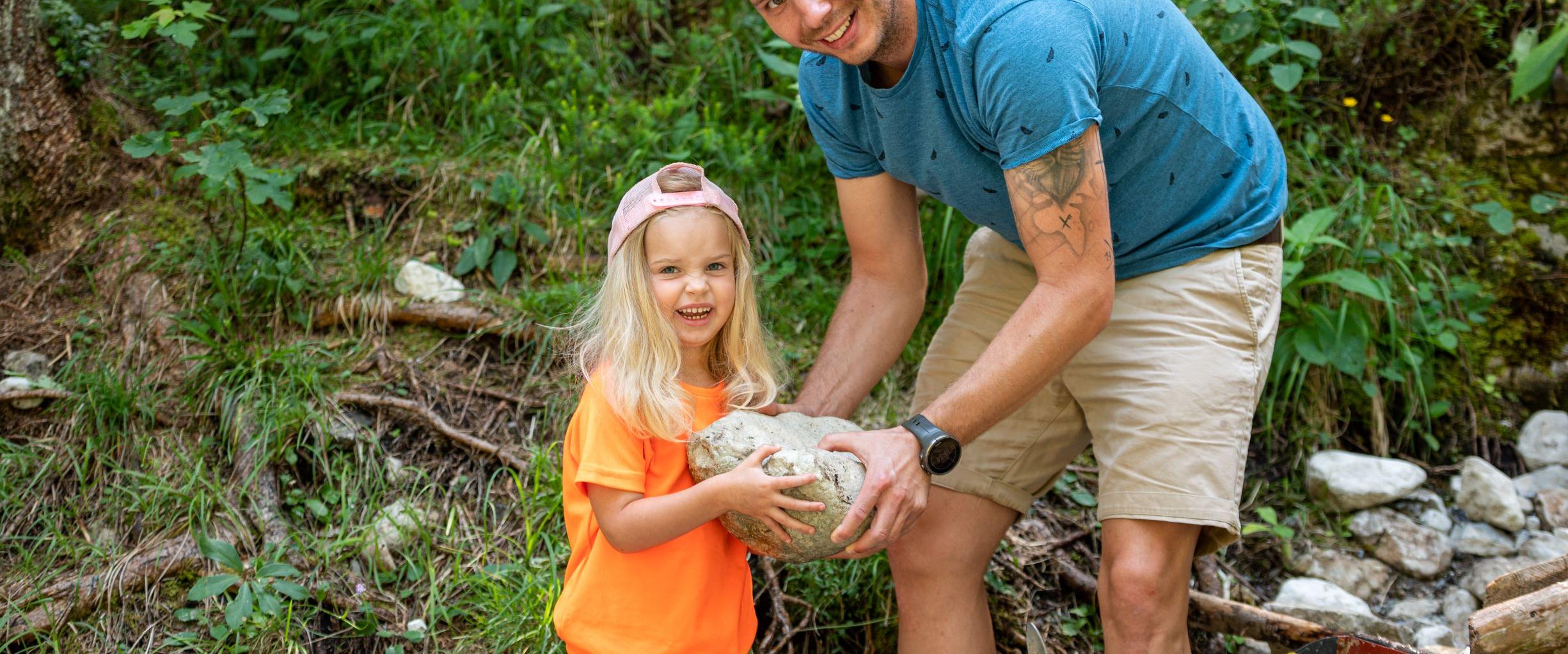 ...awaken a passion for unspoiled nature in all our guests!
The breathtaking landscape surrounding Bliem's Kinderhotel beckons to learn more about the alpine world of the Schladming Dachstein region.
Guided hikes to the most beautiful places the region Schladming / Dachstein has to offer
Did you know that hiking makes happy? An ancient wisdom which has been scientifically proven. Whether you set out on your own or in the company of our qualified mountain guides, you'll feel inspired by the fantastic views and fresh air, breathe freely and find peace. Our hotel is the ideal base for your family hiking trip in Schladming, with a fascinating mountain scenery, tranquil alpine pastures and more than 300 mountain lakes.
See here our FREE family activity program with hiking guide Kathi or Stefan and children's hiking guide Stefi
So much summer - so much holiday! When hiking in our beautiful mountain region Schladming-Dachstein there is so much to do!
Fun and games on cool mountain playgrounds
Hopsiland is a must on your to-do-list! Catch the Planai gondola (with the Schladming-Dachstein Sommercard free for our guests) for a ride up to the Hopsiland on the Planai mountain top where an exciting themed trail featuring marble runs, large water world, craft activities, giant slides and swings await all the family.
A family hiking holiday in Styria will keep everyone enchanted: Rittisberg, Hauser Kaibling, Reiteralm and a range of other excursion destinations with great playgrounds just wait to be discovered!
With treats in store for nature lovers, Styria is the perfect hiking destination for families with children
It doesn't always have to be the summit - also shorter hikes offer unforgettable natural experiences. The free Schladming-Dachstein Sommercard carries visitors up to the mountain station. From there, families with toddlers can enjoy a leisurely walk through the spectacular scenery thanks to the pushchair-accessible footpath! Guests can explore all this and more by joining our accompanied walks that are part or our activity program 5 times a week.
Take a break from daily routine
Take a leisurely stroll through the forest and leave all your cares behind. Next to the well-known excursion destinations there are often the hidden spots that ensure true relaxation. We know many of such places and will be pleased to point you in the right direction during your break in our hiking hotel in Styria!
Hiking at the foot of the Dachstein overlooking the stunning mountain scenery
Walking at the foot of Dachstein's mighty south faces will remind yourself just how small you are and help you become one with nature.
Modern lift facilities and scenic, well-maintained paths provide a comfortable opportunity even for less experienced mountaineers to enjoy a splendid short hiking tour amidst an impressive mountain scenery.
True climbing paradise
Those seeking to venture up even higher to test their limits will a number of beautiful vie ferrate climbing trails in the Schladming-Dachstein region.
Courses and guided tours are also available. Just give it a try!
Up high!
However, sometimes it just has to be a summit or at least a mountain lake blessed with a superbly scenic location. Numerous well-marked hiking trails just wait to be explored.
We offer guests a special guided tour as part of our family activity program once a week.
Hiking in Styria and getting to know the heart of the region
Suggestions for family hikes around Haus im Ennstal
The new online hiking portal for Styria allows to view your planned hike in 3D and to "fly" along your track, print out tour descriptions and download GPS tour data.
Schafsinn circular hike at Hauser Kaibling: approx. 2 hrs, back carriers recommended
Round Styria's Lake Bodensee: approx. 1hr, suitable for pushchairs
From the Reiteralm alpine pasture to Lake Spiegelsee: approx. 2 hrs
Family hike through Hopsiland: approx. 1 hr
TIP: Schladming-Dachstein Outdoor Active
Whether you prefer gentle nature experiences or are drawn by the major peaks - as you explore the hiking paths of the Schladming-Dachstein Region, you are certain to find a route destined to become your personal favorite.
The offer ranges from family walks, headwater and water hikes to alpine tours and summit conquests.
Interactive Schladming-Dachstein hiking map
We will be glad to submit an individualized offer for your hiking holiday in the Kinderhotel in Styria sure to excite the whole family.