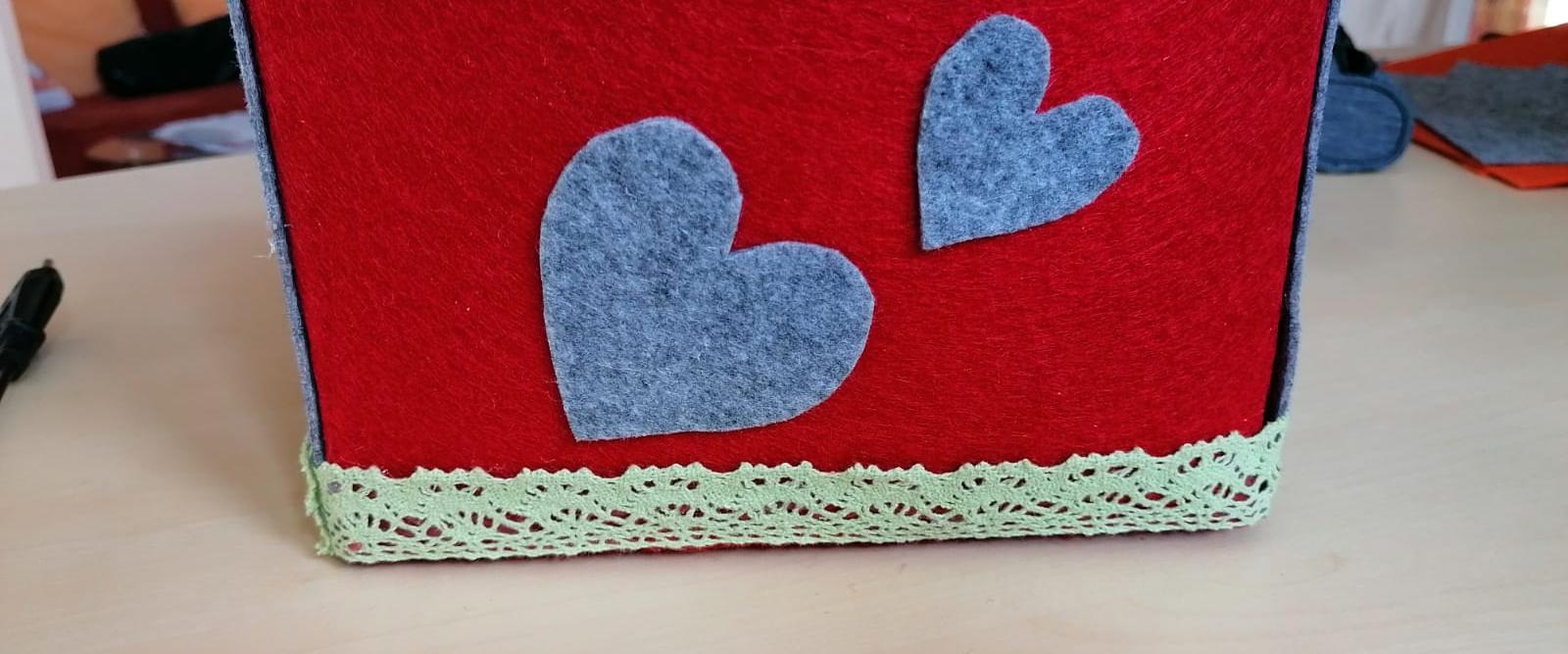 Mother's Day is just around the corner! - Craft tip for slightly older children!
As we all know, on 09 May is Mother's Day and we would very much like to give our mothers something from the heart! Here you will find the tutorial for a homemade felt bag, which you can fill perfectly tailored to your mother.
Material:
Felt (can also be in several different colors).
High rectangular tupperware or box (= size and height of the bag)
Scissors
Hot glue gun and refill cartridges
Crochet lace
Flowers or candy to fill
Decorating materials (flowers, glitter, ...)
Instructions:
The size and height of the tupperware or box is used as a measurement for the bag. First, we placed the red felt piece under the box and traced the edges (see Figure 1). We folded the shorter ends from the felt like a gift (see illustration 2, 3 and 4) and the small triangles are glued down with the hot glue gun. Then the small end is folded up and glued again with the hot glue gun (see figure 5). Then take the gray felt, measure the sides, cut them out (see figure 6) and glue them on the red one with the hot glue gun (see figure 7, 8 and 9). After that, the only thing missing is the decoration. We also glued the crochet lace once at the top and bottom with the glue gun (see illustration 10) and cut out the hearts and handles from the remaining gray felt (see illustration 11). The bag can be individually decorated with flowers or other things, this is up to everyone.
I wish you a lot of fun with the Nachbasteln and I would very much like to see your masterpieces also. If you want to link us or just send us the pictures!
Our blogger: Receptionist Christine
Christine has been part of the Bliem team since 2019 and we are still discovering new talents from her all the time ;-) She is currently working hard on our blog and will be posting some craft tips, cooking recipes and background stories about the hotel in the coming months.
Christine is 20 years old and born and rooted in the region. In her spare time, she is very involved with her local music club. Our "in-house" Bliemkids also appreciate Christine very much, who fills in as a babysitter every now and then for a short time. If there is a need somewhere, Christine is always happy to help.
Thank you for being in our team Christine - we hope you will stay with us for a long time :)